UNC Asheville's Honors Program was founded in 1985 and provides a rich curriculum for motivated students who seek to understand themselves and make a difference in the world. Together, students, staff, and faculty create a community of dedicated and enthusiastic scholars who care for the well-being of all. Honors students have opportunities to:
Participate in enriching co-curricular and extracurricular activities
Forge strong relationships with outstanding professors
Interact with distinguished campus visitors
Travel in the United States and abroad and earn Honors credit
Engaged in scholarship, campus life, and the greater Asheville community, Honors students value education and strive to create a better society, one in which every life may flourish. If you are a self-motivated learner who understands the value of challenging classes and are willing to give your time and talents to a greater cause, you will find a fantastic community within the Honors Program.
Benefits of Honors Program participation include:
Optional honors housing block for first year students
Up to $2,500 in grant support for high impact experiential learning, such as study abroad or research
Access to exclusive study spaces, such as: The Laurel Forum, Honors Library, and the Honors Seminar Room
Leadership development and community engaged scholarship

Option to run for leadership positions in the Student Honors Advisory Council
Graduate with Distinction as a University Honors Scholar on your transcript
Exclusive access to Honors courses taught by award winning faculty
How to Join the University Honors Program
Incoming, First-Year Students
Incoming, first-year students are automatically under consideration for admission to the Honors Program. Admission to Honors is competitive, we only accept about 50 students per year. Students who are admitted to the Honors Program will receive a separate acceptance letter from the Director of the Honors Program. If you are not initially admitted, you may request to join the honors waitlist by emailing the Director. Waitlist decisions are made on a rolling basis based upon space availability.
For prospective students, there are no additional deadlines and no separate application is required to be considered for the Honors Program. For applicants in the 2023-2024 application cycle, please indicate your interest in being considered for Honors within your application. Our assessment considers the strength of the curriculum pursued, grades in core academic classes, writing, recommendations, leadership potential, and potential for impact in our community. Current UNC Asheville students have the opportunity to join the Honors Program after their first semester (see below).
Transfer Students
Transfer students can also be admitted to the Honors Program, and we have memoranda of understanding with some schools to transfer Honors credits. Transfer students should be aware that the full Honors course load leading to Distinction as a University Honors Scholar is difficult to complete in fewer than three years, so it is recommended that transfer students schedule an advising appointment with the Director of the Honors Program to plan out their curricula. Transfer students often earn Recognition as an Honors Scholar, which has fewer credit hour requirements and is suited to students who plan to study at UNC Asheville for fewer than 3 years. Please see the Benefits page and the Requirements page for more information on these two paths.
Current UNC Asheville Students
Current UNC Asheville students may apply for admission to the Honors Program after their first semester at UNC Asheville. Students interested in applying should first schedule an advising appointment with the Director of the Honors Program to ensure that such a path will work for the student's schedule. Applications can be requested from the Director and are accepted on a rolling basis each semester.
For more information about the Honors Program, please contact honors@unca.edu.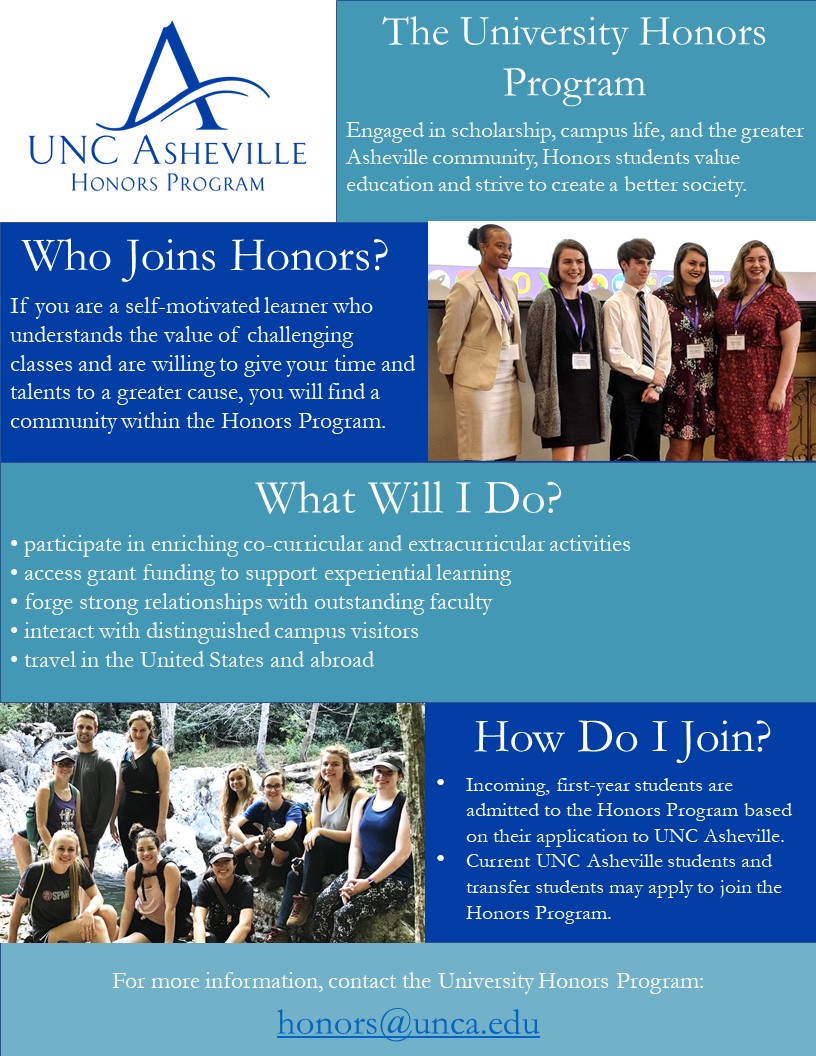 The UNC Asheville Honors Program is a member of the Southern Regional Honors Council