The Adelaide Worth Daniels Key Center for Community Engaged Learning
Strengthen Communities & Address Social Issues
UNC Asheville's Key Center for Community Engaged Learning supports student transformation and growth as scholars, leaders, and active citizens. In collaboration with community partners, the Key Center equips students to develop critical thinking strategies, apply transferable skills, explore life purpose, and broaden perspectives.
We coordinate and support service experiences, community-based research, service learning, cultural events, and educational programs. The Key Center fosters authentic relationships between UNC Asheville, our students, and our community partners—relationships that have resounding effects on the lives of students and the long-term stability of community organizations.
Why Community Engaged Learning?
Active community involvement fosters many positive outcomes for UNC Asheville students. Service learning, first-year experiences, and other community-based opportunities increase student engagement, improve the quality of learning on campus, enhance students' self-image and self-confidence as community members, diversify students' lived experiences, and equip students to develop civic engagement skills that empower them to serve in and with communities throughout their lives. The broader community, too, experiences growth, support, and advancement through collaboration with UNC Asheville students and faculty.
Student Testimonials
"My experience with the Key Center has made me feel extremely connected to campus culture/life at UNC Asheville. The Key Center provided me with resources to be able to connect with other students, while also connecting me to the greater Asheville area. The Key Center is a wonderful way for students to get involved and create a sense of belonging to their fellow students and staff. I truly love my job at the Key Center and I am excited to continue learning and connecting with UNC Asheville and the greater Asheville area."
"I think the most important thing I've learned is to take into account how our work and actions will affect the greater UNCA and Asheville communities, and just how important it is to ensure everyone feels included and a part of the community."
"My experience with the Key Center has certainly brought me closer to my campus community. Through interaction with my coworkers and other student employees, as well as providing support for events, I have absolutely grown to see UNCA's overall well-being as linked to my own. This has encouraged me to continue to provide for my campus community as a whole!"
"The Key Center has played a crucial role in my student career. The Key Center has given me many paths to several opportunities where I was able to help my community and step into leadership roles."
"My experience with the Key Center has impacted my experience at UNC Asheville greatly. I have met many great people that attend UNC Asheville and I have learned the importance of community."
"I've really enjoyed being a part of the Key Center. I've been able to meet lots of people, get involved both on and off campus, and learn more about the Asheville community, which I'll be a part of as long as I'm at UNCA."
"Working with the Key Center was the greatest sense of community I experienced on campus and definitely a highlight of my college experience."
"My experience with the Key Center has impacted me greatly in a positive way. It is a really big part of my college career. I gained mentorships and an amazing group of people."
"So far one of the most important lessons that I have learned/am beginning to learn is the power of identifying people in your community to learn from. As a new member of the Key Center and UNC Asheville as well as the broader Asheville community, I have witnessed the power and benefit of tapping into the resources and networks of people that hold more knowledge or different skills with which to learn from. I am excited to continue to tap into that through the guidance of other Key Center members and staff."
"I would say that the most important lesson that I have learned as a result of my experience with the Key Center is my newfound depth and capacity for community care/outreach. My previous experience as a Political Science student has often limited my community interaction to the realm of government/politics alone, however my time at the Key Center has introduced me to countless forms of community engagement beyond simply voting. By being introduced to initiatives supporting food equity, housing security, bodily health and wellbeing, etc, I have developed a much more expansive and inclusive vision of what community care can look like."
"What ethical and sustainable community engagement looks like, and the importance of racial justice and healing in every walk of life."
Community Engaged Scholars Program
The Community Engaged Scholar distinction through UNC Asheville's Key Center involves reciprocal community partnerships and research initiatives in Asheville and Western North Carolina.
As a Community Engaged Scholar, you work alongside a community partner advisor and faculty mentor to complete a community-driven project, then write and present a reflective research paper.
Service Learning Courses
Pair your academic interests with intentional experiences by earning credit through service learning. These practice-based courses involve a broad range of specializations, including ecology, social research, advancing health equity, and teaching and leading in education.
Upcoming Events
The Key Center for Community Engaged Learning regularly hosts educational opportunities, service activities both on and off campus, networking opportunities, food distribution events, and more.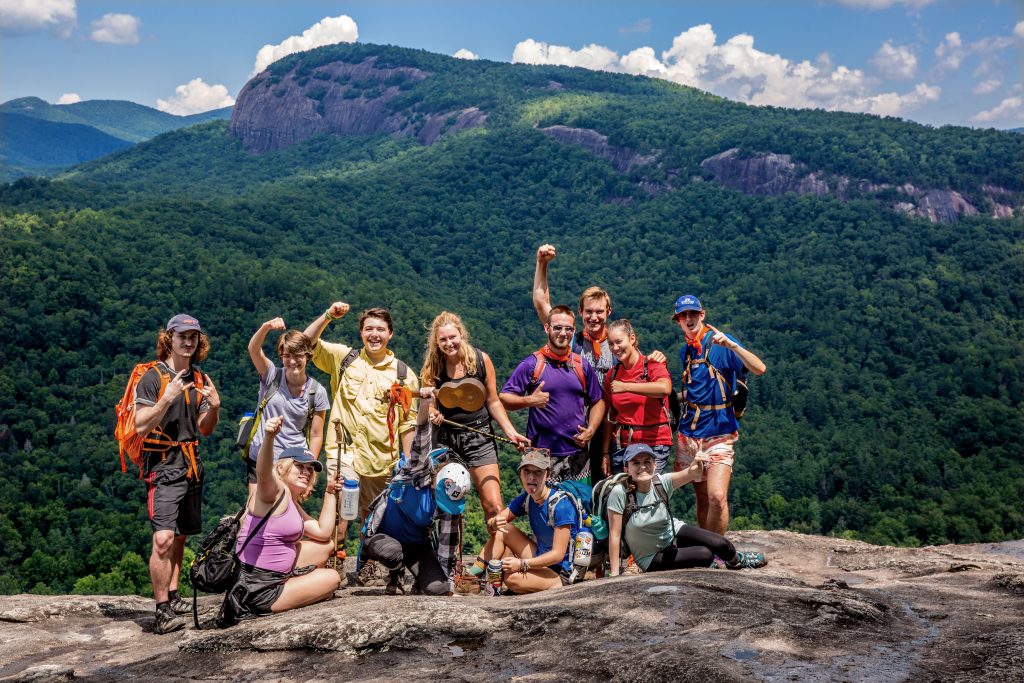 Partner with the Key Center for Community Engaged Learning
Community-based organizations in and around Asheville and Buncombe County can access valuable services and grow with the support of dedicated students, staff, and faculty through UNC Asheville's Key Center.
If you are part of a non-profit, grassroots organization, public agency, or K–12 school, partner with us to provide co-curricular and service-learning opportunities for UNC Asheville students!