Learn, create, and thrive in a close-knit community
Experience every moment of our vibrant campus, in our tree-filled neighborhood, and across our engaging city. Student life at UNC Asheville has it all: energizing events, quiet study areas, professional networking opportunities, dedicated wellness resources, back-country adventures, and just about anything else you can imagine.
Discover an engaging student life experience at UNC Asheville and begin friendships, networks, and communities that will last a lifetime.
Living on Campus
Living on campus means you'll never be too far from your classes, your friends, and the abundance of resources and facilities our community has to offer.
Make yourself at home in one of our 16 on-campus residence halls, each with its own unique on-campus amenities and living experience. You can choose from suites, double rooms, and single rooms, and non first-year students are eligible to live in our apartment-style community, The Woods. You can also immerse yourself in your area of interest through our Residential Learning Communities.
Dining Experience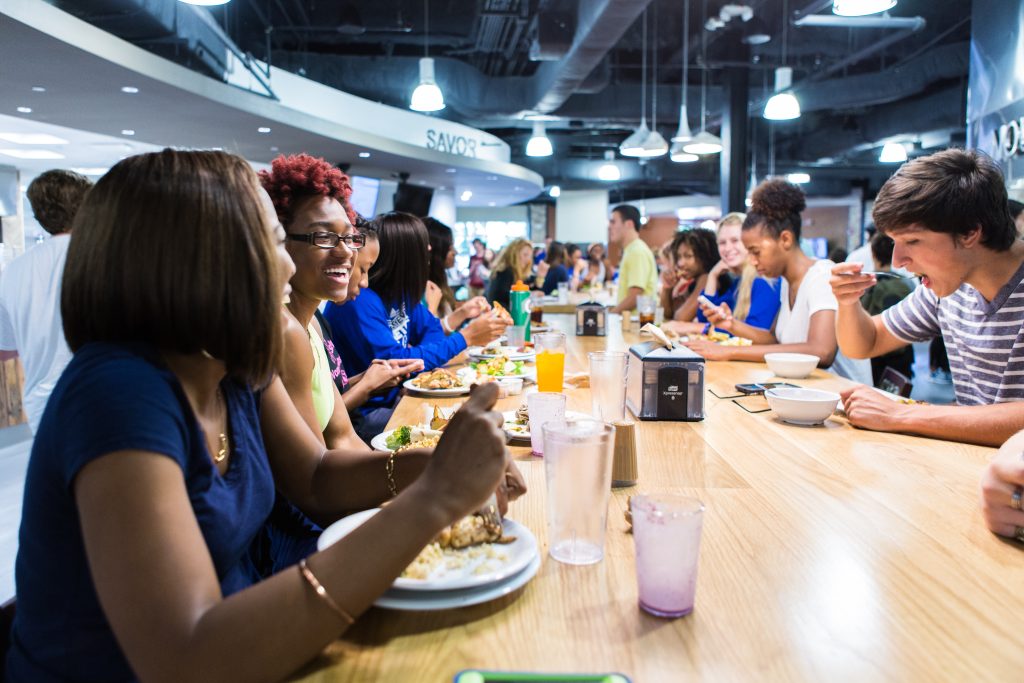 The city of Asheville is the #1 Food Destination in the U.S., and on campus, we take that reputation seriously! Indulge in a variety of cuisines and drinks at dining venues across campus. You can enjoy made-to-order or buffet-style meals in our dining hall, as well as student favorites like sushi or burgers in our food court, smoothies and acai bowls in our Smoothie Lab, and specialty coffees at our cafe. Our dining areas accommodate many dietary restrictions, choices, and allergies.
Health and Wellness
Look after your body and mind with the help of substantial physical and mental health, fitness, and recreational resources available at UNC Asheville.
Access medical and mental health services from our campus physicians, nurses, psychiatrists, and counselors in the free-to-students Health & Counseling Center.
Campus Recreation
Campus Recreation offers everything from fitness classes and intramural sports teams to wilderness outings. Nestled in the heart of the Blue Ridge Mountains, our campus is just minutes away from hundreds of thousands of acres of national forest, where students can hike, camp, kayak, and rock climb through the Outdoor Recreation Program. Need equipment? You can rent outdoor gear and bikes for free or just for a small fee.
Students also get full access to fitness equipment and yoga/dance studios at the Sherrill Center, as well as the pool, indoor track, and basketball and racquetball courts at the Student Recreation Center.
Student Care and Success
At UNC Asheville, we support students in their wellbeing journey. By integrating care and compassion into our student support services, conducting resolutions and crisis intervention, we are able to promote a relationship-driven educational experience that is centered and grounded in the connections we make with students.
Academic Success
Our Student Success Specialists serve as a bridge between students, the campus community, and beyond. We help students connect and engage with all of the opportunities and resources available at UNC Asheville. Using an evidence-based, holistic advising framework, we help students develop self-awareness, curiosity, and courage as they reflect on their academic interests, priorities, and future life goals. We help students stay focused and guide them to on-time graduation.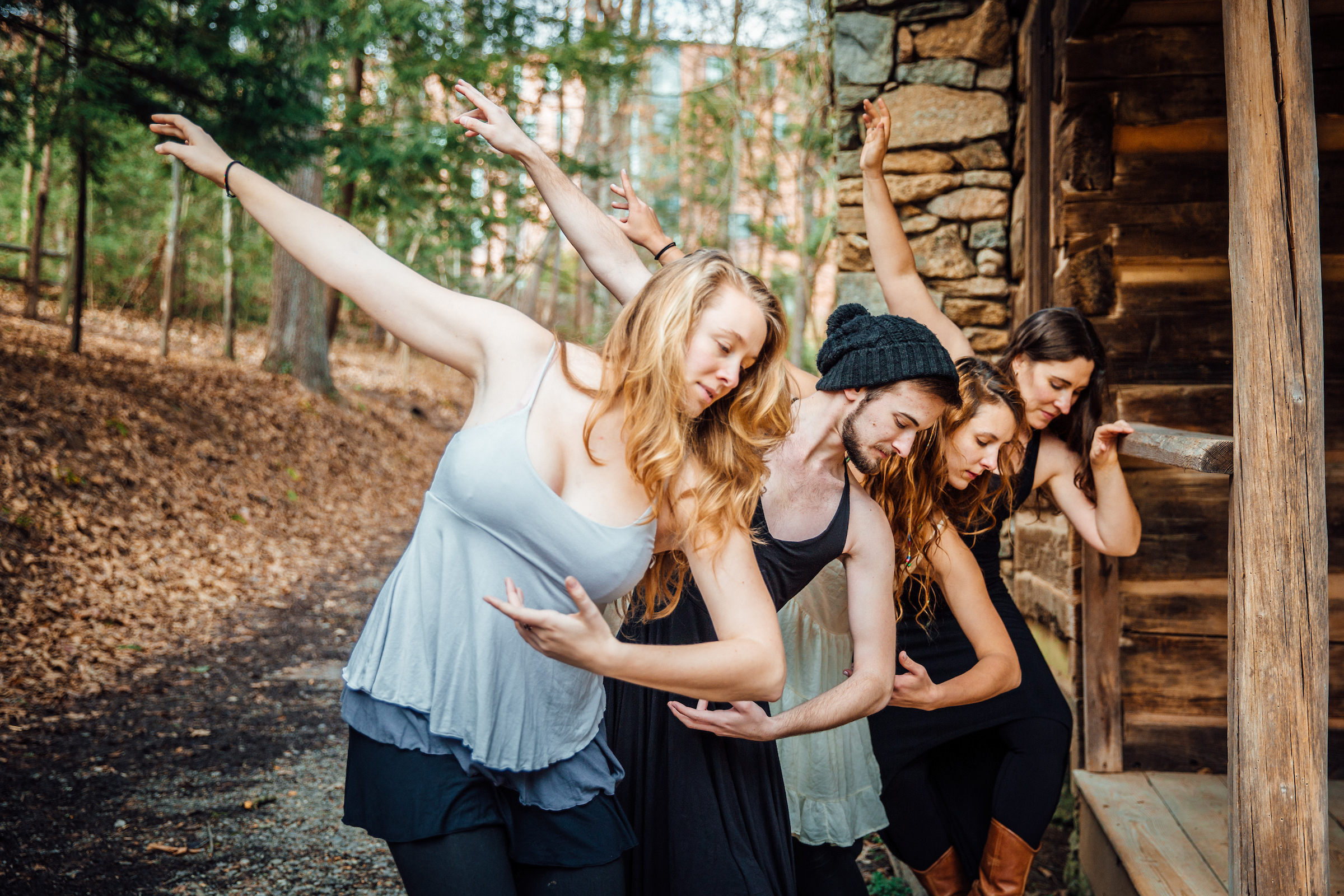 Community and Belonging
Make friends, build out your resume, gain leadership experience, and form an intentional community through wide-ranging clubs and student organizations: find your place in academic honor societies, acapella groups, board game clubs, service groups, club sports, fraternity & sorority life, and so much more. If we don't have the club you are looking for, we'll provide you with the resources and guidance to start your own!
Multicultural Affairs
The Office of Multicultural Affairs (OMA) serves as a leader in advancing UNC Asheville's core value of Diversity and Inclusion. OMA focuses on creating an inclusive, welcoming, and supportive campus environment. We offer trainings, student organization support, leadership development, educational opportunities, social events, and various other forms of engagement, support, and advocacy!
Sports and Athletics
Bring your game face. UNC Asheville is home to 16 NCAA Division I athletics teams competing at the highest caliber under the guidance of nationally recognized coaches. We grow lifetime leaders and national champions through our mission to believe, achieve, and thrive on the field, across the court, through the water, around the pitch, and in the stands.
Life After College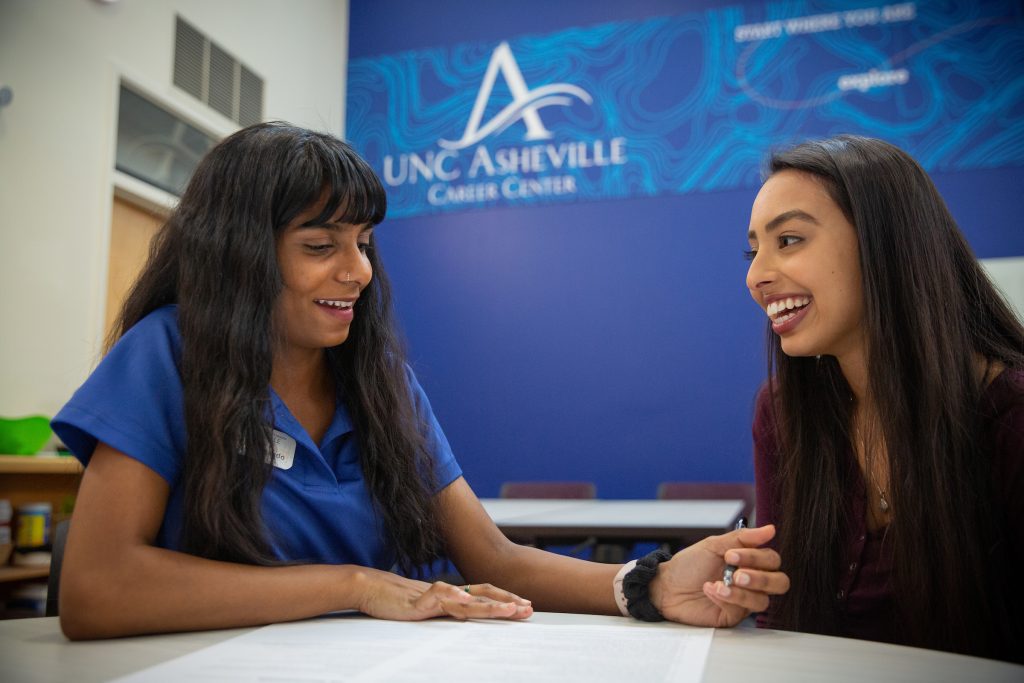 From on-campus student employment and choosing a major to pursuing internships and building a professional network, the Career Center supports students from day one. We have the resources and tools you need to help craft a future you can believe in.
UNC Asheville's Alumni Network
As a graduate, you'll be a lifetime member of the UNC Asheville Alumni Association! You'll have access to a variety of services that will help you grow as you continue on your journey, all while staying connected to your Bulldog Community. Benefits include unlimited career services, discounts for accommodations and local attractions, and access to regional events and virtual lectures.
46%
of degree-seeking undergraduates live on campus
16
NCAA Division 1 athletics teams
60+
clubs and organizations, ranging from honor societies to intramural sports
Campus Traditions
From Rockypalooza and the Turning of the Maples to Greenfest and patting Rocky the Bulldog before your convocation and graduation, UNC Asheville's heartfelt traditions and raucous campus events encourage our tight-knit community to find joy and meaning in all kinds of moments.