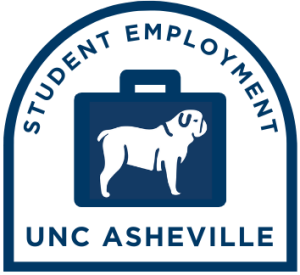 The Student Employment program is a collaboration between the Career Center, Human Resources, Financial Aid, and Payroll to provide both the processes for working on-campus as well as developmental opportunities to help students understand the impact of working on-campus, especially related to building skills and developing a sense of belonging on campus.
Fall 2023 Student Employee Evaluation
Student Employee Evaluations for the Fall 2023 semester are due on December 6 / Reading Day. A quick overview of the process is:
Student employees will submit their self-evaluation

Supervisors will be notified when a student has

submitted

the evaluation and will complete their portion of the evaluation

The student employee and supervisor will meet to discuss the evaluation and how they would like to utilize the information in Spring 2024



On-Campus Jobs
Students interested in working on campus can review and apply for on-campus jobs through Bulldog NetWork. Additional positions will be posted throughout the year so keep an eye out for new postings.
Connect with Us

If you have any questions, please don't hesitate to email
studentemployment@unca.edu
– we're here to help!